We are excited to share our great guide and review for anyone looking to get into stand up paddle boarding or even stand up pedal boarding. The staff here at SUP Boards Review are looking forward to sharing our testing and experience with a wide range of equipment and boards. We hope to further help you pick out the best board for your needs.
Below is a few of our latest reviews for 2018. Be sure to also check out our blog for other in depth reviews as well.
Best Paddle Boards Of 2018
Our #1 Best All Around Paddle Board Pick   
Bic Paddle Boards
BIC, yes BIC the pen & lighter manufacturer, makes a terrific paddle board. They have a wide range of products for every possible type of SUP'ing. Each line has a unique purpose, and as you might expect each comes in several sizes.
Paddleboarding Chicken?! Ya You Heard Me Right…
When you think you have seen it all, you really haven't. Just a funny video I wanted to share for a little entertainment.
Questions is, what do you think will be next? Leave your thoughts below or even, what you would like to see on a paddleboard next.
---
Ever Wonder How To Use Stand Up Paddle Board?
Sometimes I personally forget that a lot of people are just looking to get started with paddleboarding. Rather than have me sit here and describe the steps you need to take, this video will give you the information you need to get started.
Once you learn the basics, then we can get into more complicated details in our main blog area.
---
Stand Up Paddle Board Technique Video
Proper PaddleBoard Technique Video
Even though this is not our personal video, it is one of the best I have found to help people get a better understanding of a proper paddling technique. I can write till I am blue in the face trying to explain the "right way", but why do that, when there are great videos like this one already out there to share with you. I don't mind promoting other people when they have good content 🙂
I really hope this helps, let me know if you have any additional questions in the comments below.
---
How To Paddle Board Video
Why try and explain how to paddle board when we can just share this video with you! Bernie is a world champion and will give you the best information. Enjoy!
---
Hobie mirage eclipse stand up pedal board video!
I prefer video's most of the time, so here is the official sales video from Hobie:

Be sure to see the availability of these here: Hobie Mirage Eclipse 
---
Choosing The Right Stand Up Paddle Board (SUP)
What Is The Right Board For You?
Rather than just writing about how to choose the right paddle board, I'll just share this great video that I found on the 3 different types of paddle boards you should consider. Also See our recommended paddle boards.
---
Best Rated Stand Up Paddle Boards For 2017
Whether you are planning a trip to Bali, Indonesia to do some surfing with a paddle board or you want to visit Playa del Carmen, Mexico and bring a stand up paddle board with you, you may wonder what are the best paddle boards on the market in 2017 and which one will provide you with the long-lasting use you want.
Where or How Will You Use Your Paddle Board?
Before you set out to purchase your paddle board, you will want to determine where you will be using it and what type of paddle boarding you will be doing. The reason for this is that there are various types of paddle boards and the type that is good for river fun, may not work out well for surfing.
Following are some of the different types of paddle boards and what they can be used for:
Fitness paddle boards:
Fitness paddle boards: Some people like to do yoga anywhere and everywhere and fortunately for them, there are paddle boards designed for fitness fun. What most yogis look out for in selecting their fitness paddle board is that it has the width they need to do their favorite yoga poses.
You also want to ensure that the paddle board that you are checking out offers more balance than most. Yoga is a sport that requires balance as is paddle boarding, so it goes without saying that your fitness paddle board should be one that gives you the best traction around.
Racing paddle boards:
Racing paddle boards: As you can imagine, racing paddle boards are designed to go fast. They are usually lighter than your average paddle board, which may make balancing a challenge for beginners, but they will undoubtedly help the racer win with their sleek build.
Race paddle boards tend to have a narrower nose which allows for a smoother and faster glide through the water, but which could also mean it is more difficult to balance for beginners. One thing to consider about these touring race paddle boards is that they tend to be a bit pricier than most boards.
Flat water paddle boards:
Flat water paddle boards: A flat water paddle board is one that most beginners will use and can be used for simple paddle boarding, whether down a river or on a lake and is one of the more stable boards to use for leisurely paddle boarding.
This is typically the type of board that beginners like to use as they are usually designed to offer better balance which is important for first-timers. Their length is usually between 10 -11″ and they are wide enough for firm standing.
Surf paddle boards:
Surf paddle boards: Surfing on a paddle boarding is challenging, but also highly rewarding. Where bigger and heavier boards may be better for flat water boarding, or practicing yoga, a lighter and smaller board will do the trick for surfing to help the surfer maneuver easier and balance better.
Something else to look for when shopping for a paddle board is that they are better shorter, as this allows for better maneuvering of waves.
While some people may like the idea of just going to a store and picking out any paddle board that seems to suit their fancy, the truth is that the details count and buying one that isn't ideal for what you need could mean a waste of money.
Here are some things to keep in mind when purchasing a paddle board:
If you need it for regular leisurely use, you may want to get a 30-34″ board which will help you to be able to balance better.

Unless you are great at racing with a paddle boarding, a board about 10 or 11 feet is ideal for you. Of course, if you are a paddle board surfer, a shorter board is what you will need for the agility required in surfing.

Some boards are heavy and if you have a smaller build, it may be difficult for you to carry a heavier one, although heavier boards can help to provide better balance.
It's important to take the time to consider all the features and components of the various paddle boards as each feature can mean a different result. It won't do you much good to buy a surf paddle board, if what you want to do is race paddle boarding and if you are a beginner, you may not want to buy a board that requires more agility and speed, when what you need is one that provides you with proper weight and balance.
Inflatable Paddle Boards?
There are also inflatable boards that can be good for simple river boarding or recreational use. They could be a good idea for those who are traveling around and want to stand up paddle board in different places, because they are easy to carry and can fit on trains, planes, and automobiles.
While some people may think that an inflatable board won't be as sturdy as a solid constructed board, there are some inflatable board manufacturers out there who get it right and provide SUP paddle boarders with portability, as well as stability and durability.
Which Board is for Me?
Now that you know which type of board to look for, for what you want to do, following are some of our favorite boards for stand up paddle boarding in 2017.
Our Top Rated Paddle Boards For 2017
The Best Rated Inflatable Board: PEAK Inflatable Stand Up Paddle Board with Travel Backpack, Adjustable Paddle, and Coil Leash, 126 x 31 x 6-inch
Type: Recreational
Length: 10'6
Construction: Inflatable
If you are plan on traveling to distant countries with your paddle board, this Peak inflatable paddle board may be the ideal board for you. While the price may at first seem off-putting, the board provides SUP boarders with the durability they need due to its military grade PVC material which is 6″ thick.
It's easy to carry with its carry backpack, high pressure pump, and it's strong and stable shape means that it will work well for recreational paddle boarding. This PEAK paddle board can also carry more weight than most inflatable boards, making it ideal for heavier boarders or those who like to bring their dogs with them on the journey. What makes this inflatable paddle board worth its price is its amazing quality, from the accessories to the board itself. Travelers can trust they have a board they can depend on.
Check For The Current Best Price
The Best Paddle Board for Getting Started: Naish Nalu GS Stand UP 10'10
Type: All-Around
Length: 10'10
Construction: Non-Inflatable
If you are just getting started in the sport of stand up paddle boarding, there are a few components you want to look for and the Naish Nalu has them all. It's length of 10'10 means that it is ideal for recreational fun, it's width is just enough to help balance without being too large for a small person to carry.
With a glass matrix deck and bottom, it provides paddle boarders with some of the best weight ratio to be found in any paddle board-ever, which for a beginner is highly important for learning balance. For anyone who is afraid of falling in the water, this board is the best one that you can find to avoid tips and spills.
The Best Yogi Travel Board: Naish Mana Air iSUP
Type: Recreational/Yoga
Length: 10′ to 11'6
Construction: Inflatable
If you are a yogi fanatic who plans on traveling to exotic places to practice both paddle boarding and yoga, this inflatable fitness board which is ideal for recreational use and yoga may be just what you have always dreamed of. With its air-filled body, it provides the perfect cushioning for your yoga poses while also ensuring balance.
Its smooth on the water and because you can deflate it, you can pack it up and carry it on any flight to visit the incredible destinations you have always dreamed of paddle boarding at. It's 10′ is a good size for smaller-built people, but for tall individuals, you may want to choose the bigger one.
The Cheap yet Sturdy Paddle Board: Solstice Bali Stand-Up Paddle board
Type: Recreational
Length: 10'8
Construction: Inflatable
This inflatable paddle board offers value for a cheap price. It's the perfect addition to your traveling luggage if you plan on visiting exotic destinations such as Bali or Bora Bora and want to bring your own paddle boarding gear. It's small enough to bring along, but when inflated is long enough for good balance and recreational paddle boarding.
What is something nice about this board is the texture of the body which when inflated is solid and sturdy, making it perfect for beginners to use. While not ideal for surf paddle boarding or paddle board racing, it definitely serves its purpose for recreational use.
Check For The Current Lowest Price
The Best Board for Surf: NAISH Hokuna
Type: Surf
Length: 9'10
Construction: Non-inflatable
Remember that the ideal paddle board for surfing is one that is shorter than most, yet one that has a solid and durable body. These components are found in the NAISH Hokuna which is a solid built board with a length of 9'10 making it the perfect stand up paddle board for those who want to catch the wild waves and paddle board like a pro.
The Best Board for Race Paddle Boarding: 14″ Tower Xplorer
Type: Race
Length: 14″
Construction: Inflatable
For anyone who wants to pack up and head to the nearest paddle boarding race, this inflatable paddle board has the perfect construction for winning races. Its length is 14″ which provides it with that smooth glide through the water that helps to ensure a speedy finish.
It's portability which allows it to roll up for easy transportation doesn't take away from its durability. It is made out of military-grade material which helps to prevents damage. The Tower Xplorer inflatable board also comes with a pump, but you may want to look for a better one as while the board itself is great quality, the pump may leave much to be desired.
It also has a weight capacity of up to around 700 pounds, which is ideal for taller people who may find that not all inflatable boards can withstand their height and weight.
The Best and Cutest Board for Kids: NRS Youth Jester Inflatable SUP
Type: Recreational
Length: 9″
Construction: Inflatable
As a parent who loves paddle boarding, you may want to inspire your kids to join in on the fun and this NRS paddle board especially designed for kids will provide them with the right amount of stability and length for balanced SUP paddle boarding.
Because paddle boards can typically be challenging to carry for small people, the narrow build of this board makes it easier, as well as the fact that it is light weight. It also has interchangeable fins, plenty of traction for a better balance, and a stylish design.
The Most Stylish Board: BIC Sport ACE-TEC Wing Stand Up Paddle board
Type: Recreational/Touring
Length 12'6
Construction: Non-inflatable
To be honest, this board is more than just good looking, but its aesthetics can't hurt for those who like style and functionality in one board. At 12'6, it can be used for racing due to its long length, although typically racers like boards to be a bit longer.
Because of its excellent stability due to the bow entry shape, it offers paddle boarders the ability to be able to paddle board faster and smoother than ever before. It also has heel and toe support which helps to make it easier to balance and place your feet perfectly for better balance.
Best of all, the board which is an advanced composite engineered thermoformed epoxy construction guarantees more durability than many other boards on the market. It also comes with flush deck mounts so that you can go ahead and take additional things you may need for your trip out onto the water.
It is the best board around in 2017 for anyone who has had experience in paddle boarding and wants a solid one that they can use for both touring and recreational use.
Summary
We hope you enjoyed our 2017 board review. If you have any questions or comments, or would like to see other reviews, be sure to mention them below in the comments below.
Overall Review
Best Stand Up Paddle Boards For 2017
Summary
Paddle boards just continue to get better and better with time. The great part is that prices come down over time for an equal quality board that used to cost much more. As the sport advances, everything gets better and less expensive. We look forward to the future and reviewing more boards very soon.
---
hobie paddle board reviews
Hobie Alter (Yes, that is his real name!) turned a 'fun' endeavor in the 1950's into a huge board business that now spans the globe. Hobie stand up paddle boards are highly sought after. In the article below, we take a closer look at a variety of Hobie boards available on the market today.
Hobie did an interview with Surfermag and is a pretty interesting read if you are interested in learning more about the man and his business.
The tour inflatable is one of the toughest iSUPs on the market. Suppers have tested the Hobie Tour board in the Indian Ocean for many weeks and found that it just plain refused to crack under extreme use and continued to impress us. You can inflate and deflate this board multiple times a day with no issues at all. It is crazy tough.
The board runs around $1,400 which  might seem a little steep for an inflatable board. It is hard to argue that you can get a quality solid SUP for that price, but the portability of the Tour Inflatable and the durability is the selling point for any hiker or traveler. The board package includes:
12'6" inflatable SUP
3-piece adjustable paddle
Pump with gauge
Gear bag that can hold everything above.
It weighs 28 pounds with a width of 32 inches fully inflated. This is mainly a recreational SUP and would not be a competition style board. With these points made, the Tour Inflatable is actually a pretty good value for money at this price. Because It is an inflatable, it can double as an inflatable mattress if you so choose for camping.
This board is very stable for flat water boarding and is ideal for beginners. You could also use this for mild whitewater due to it being as stable as it is. This can seriously withstand a tremendous wear and tear so I wouldn't worry about hurting it if you are considering an inflatable SUP.
This Stand Up Paddle Board is one of the Hobie Race RAW series. It's construction uses a ESF Technology that is made with fibers a lot like Kevlar. The end result is an extremely tough and durable board due to fact that the material is 8 times stronger than steel and makes nylon and fiberglass look weak!
If you take a closer look at the board, you can see the amount of detail that has been put into it. The Apex has a center box for a single fin and a EVA traction pad for a soft comfortable feel. There are even extra plugs on the board for optional handles in case you want to instal them to punch through the surf easier.
Seeing how the Hobie Apex is a custom board, it may not fit everyone, so you may want to look for a wider board or a narrower board depending on your needs. Hobie designed the apex for easy transportation. This board is definitely more sooted for the experienced rider and with the price being around $2,000, you may have to weigh your options before you pull the trigger on it. High performance is what it is built for.
This board is one of the 'Recreational' Hobie board lines and is an extension of its CM Raw Series. This Hobie paddle board is mainly designed for a larger individual who is looking for a little extra stability in a board.  The board comes in a few sizes: 9', 9'8" and 10'6" so that you can pick and choose to fit.
This is also one of Hobie's board series that legendary Colin McPhillips has endorsed and decided to put his name on. The 9' version is ultra light and only 30 inches in width. It includes a nice deck pad, hand hold, deck plugs, leash port, and vent plug.
The board is constructed of bamboo and epoxy so is really durable and can take a harder hit than just your standard fiberglass board. The CMLB has a nice deep concave in the front of the board, so it planes nicely and makes hard quick turns simple and easy.
The one downside to this board is the stability. It is a little harder to balance on compared to most paddle boards on the market, so if you need a more stable board, this is probably not the best board for you. However, if you are after a high performance board that you can really snap off the lip of a wave, then the Hobie 9' CMLB is what you may want to buy and it comes in around $1,399.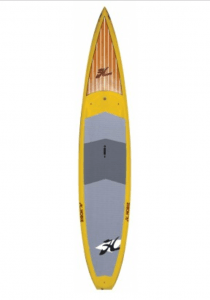 Like all Hobie boards in the Elite series, this paddle board has been tested and developed by world class boarders. Hobie really made an effort with this board due to the amount of  extreme testing it has gone through.
One of the main athletes involved in the rigorous testing of the Elite Flatwater SUP is Byron Kurt. The Elite is extremely fast and smooth in all conditions, even choppy waters and bigger surf. It is said to be one of the best all-around racing and touring boards on the market today.
What surprises most about Hobie Elite is its ability to be fast but still so stable at only 28″ wide. Because the board glides so well and offers superb stability, you can let a little loose and give more power to your strokes with deeper sweeps and you can worry less about keeping your balance. After testing the Elite, you will soon find your 'sweet spot' and be able to focus more on riding rougher conditions. At $1,900, this board isn't such a bad deal considering the quality.
---
Inflatable Stand Up Paddle Board For Sale
I have personally noticed that there are a lot of new inflatable paddle boards on the market, so I wanted to just go over 2 of them really quick. I wanted to give an inexpensive option (which I am asked about a lot!) and one all around great inflatable that is super durable. These seem to be the 2 biggest factors that I see people ask about lately, so here you go…

#1 Pathfinder Inflatable SUP 
The Pathfinder is about your lowest budget entry point into an inflatable stand up paddle board when you need to save a few bucks.
Best For: Getting started on a budget
Lets take a look at some of the details:
It Measures 9'9″ in length by 30″ wide and is 5″ thick

Great for general open water paddle boarding use.

Amazingly Durable – Tough PVC material with a strong multi-layer drop stitch

Large padded deck, D-ring for your leash, and a bungee for securing extra cargo.

Includes: Pump, aluminum adjustable paddle, detachable center fin, valve wrench, and a carrying bag (with shoulder straps).
The Verdict: Lowest price point inflatable paddle board!
PRICE $349.00
---
#2 Isle Airtech Inflatable Paddle Board
This is a super lightweight inflatable which is great for packing around or if you have to hike a ways to get to your destination. It is ultra durable, handles a good amount of weight (240 lbs) and comes with a 30 day full return policy.
Best For: durable travel board.
Lets look at some more specks and details:
Dimentions: 10′ x 31″ x 6″. It is up to 30% Lighter (Only 18.6 Lbs.) and Stiffer along with more durable. 

Has an all around design so it is great for flat water, small waves, or river runs.

Can support riders up to 240 Pounds.

Deck bungee for extra gear with a nose mounted handlece!

Super high durability! No worries about damage or dings. You can run it over with a car, throw it off a cliff or ram it into a piling, the military grade material is almost impossible to damage.

Comes with: 3 piece adjustable aluminum Paddle, travel carry pack, high pressure pump with gauge, removable fin and  a repair kit.

30 DAY RIDE AND LOVE IT GUARANTEE – Ride it and Love it or Return it! If you don't love your board we will take it back! We stand behind every product we make 100%!
The Verdict: Great all around board that is durable!
PRICE

$695.00
Hope this helps, as always, we would love to hear your thoughts and opinions below…
---
Hobie Stand Up Paddle Boards For Sale
Hobie Paddle Boards For Sale
Hobie has hopped into the stand up paddle boarding market. Here are a few of the boards:
Hobie 10'9″ Sportsman
Best Used For: Landing Fish!
The Test: Fishing on SUPs has been going on for years, but there were never any purpose-made paddle boards for it until now. Hobie saw the opening in the market and launched the inflatable Sportsman back in 2014 and has been working diligently to perfect it. The board is 38 inches wide, and holds 300 liters of air volume. This board is designed to help you land big fish like a 20-pound striper. It has many D-ring tie-downs so you can tie down a cooler (for fish of course) and anything else you might want. You can also add rod holders using Ram Mount's mounting pads. It has a heavy-duty PVC construction as well as skid plates under the two outer chambers that help protect the board for landings on the beach. The board does come with a three-piece paddle. Back Pack sold separately.
The Verdict: Real fish slayer.
Price:

$1,399



---

Hobie 10'6″ Tour Inflatable
Best Used For: Touring Board!

The Test: This stand up paddle board is perfect for families or world travelers who enjoy paddle boarding the world. The Hobie Inflatable Series is very well built and stores neatly away and is compact enough to travel with. It is equipped with all stainless steel D-rings,
 it has a built in carry handle and a removable center fin. When you buy this board, you will also receive a back pack storage bag, pump w/ pressure gauge, 3 piece Hobie Explorer
Paddle, and  a repair kit.
The Verdict: Great for beginners and travel.
Price:

$1,435
---
Hobie Mirage Eclipse 10.5
Best Used For: Adventure and speed!
The Test: Now I can't write about Hobie boards without including the Mirage Eclipse. Even though this is sort of not a paddle board (it is a stand up pedal board) It can still be used as a paddle board by removing the handle bars and fin system. People do use it this way, so we will include it here. Not to mention it is just awesome. Now if you can get past the sticker shock, you will see the great board that this is. It is 10′ 6″ and 33.5″ wide. The bars and drive system are easily removable so you can transport it just like a normal paddle board. Apparently people are coming out with different fins for higher performance as well. We have a great review on the Hobie Mirage Eclipse here if you would like to read it and watch the videos included. In the videos, you can see some of the speed you can get with this and how easy it is to operate.
The Verdict: Awesome!
Price:

$2,499



---
---