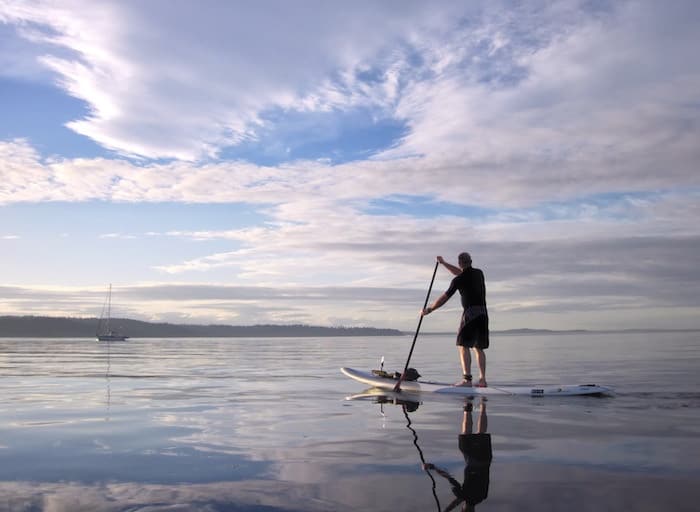 Stand Up Paddle Boards for People On a Budget
One of the fasting growing sports is stand up paddle boarding. With the discovery of the enjoyment of a successful ride, more and more people want to experience paddle boarding. The problem is that most paddle boards are too expensive for a test run. The solution is these five affordable stand up paddle boards which are available for under $400.
Aqua Marina Breeze Inflatable Paddle Board

This board is perfect for paddle boarding in a river or lake. Medium surf on the ocean is no problem for this board. These boards are surprisingly stable which allows an individual to practice yoga poses or do stretches. Each of these boards has D-rings for a kayak seat. This paddle board comes with the board, pump, paddle, and a case to carry it.
Pros
Pump allows the whole body to be used instead of just arms or legs
Has a traction pad with grooves
Easy to carry
Cons
Some may want a more durable board
Too lightweight
---
Ancheer 10′ Inflatable Stand Up Paddle Board
This paddle board is excellent for two people or a person and a dog. However, a person should remember to follow the weight capacity limit. It is even possible to fish from this board. The deck is large with a non-slip surface. The PVC material is durable and can handle rocks and rapids. This Ancheer comes with the SUP board, paddle, pump, and a backpack.
Pros
High quality materials
Durable
Versatile
Great for a first time user
Cons
Weighs more than other boards
May be hard to carry
---
DDM ISUP
Because of the design of multiple layers of this board, it becomes extremely hard when it is inflated. The board is 6″ thick and durable which means it can easily hold a boarder up to 300 pounds. This set comes with the board, paddle, tall-style pump, backpack, and a repair kit.
Pros
Made with a 3 ply PVC material
Durable
Paddle is adjustable
Heavier weights is not a problem
As hard as a traditional board when inflated correctly
Cons
Heavier than most boards
May be hard to carry
---
Lifetime Freestyle Multi-Sport Paddle Board
This board comes with a five-year warranty offered by Lifetime. This board is 35.5″ wide which offers a large, stable area for exercising, yoga posing, and a variety of other activities. Being 6″ thick, it also can support heavier weights. The design of this paddle board allows it to track through the water smoothly.
Pros
Made from high density polyethylene
UV protected
Leash can attach through loop
Molded fins for calm/flat water
Foam padding for great traction
Cons
Can be extremely hard to carry due to weight and size
May require another person to get it in the water
Check For The Best Price Here…
---
Vilano Journey SUP Board
This board can provide a similar experience to a traditional non-inflatable board when inflated correctly. It can also withstand severe conditions and a variety of uses. The grip section of this board is the best out of the five available on this list. This board also comes with a one year warranty offered by the manufacturer. It comes with the collapsible paddle, pump, board, and backpack.
Pros
Made from high quality PVC material
Stable
Great design
Outstanding grip section
Cons
Can be hard to inflate due to higher PSI
Find The Best Vilano SUP Prices Here
This list should make it easy to join the fun. These boards make paddle boarding available to everyone including those with tighter budgets. One thing to remember is that prices are continually changing, but a person should still be able to find an affordable board and have an enjoyable ride.
Overall Review
Summary
Sometimes buying things just comes down to affordability. We hear "Paddleboard" and typically think expensive. Well as we have shown, this is not always the case. There are plenty of solid entry level SUPs out there for very reasonable prices.