Stand Up Fishing Paddle Boards
People have been fishing for as long as humanity has existed, yet it seems as though fish species are becoming smarter in evading capture than they did before, even with the availability of superior technology. For that reason, humans have to be more innovative in their fishing methods. The latest craze in fishing is the use of stand up fishing paddle boards. These boards are being touted as the most effective fishing tools that bring greater fun into fishing as well as keep you healthy and strong.
It may seem a little hard to do any fishing using such a board, as you would be standing over water. However, the design of the board makes it easy for you to stand and balance without the risk of falling over into the water. They are sturdy enough to bear your weight as you glide stealthily, and they are built with stability of movement in mind. The design eliminates the risk of sudden movements or flips that could make you lose your balance.
Fishing from a SUP board has several fishing and health benefits that you cannot ignore. With this board, you get the advantage of height, element of surprise and pure fun. When you stand up tall on a board over clear waters, you will be able to spot fish at a considerable distance before they do. You will then be able to move quietly into a strategic position, where you can cast your fishing line and hook a fish in a standing position rather than a sitting one. The vantage point helps you to have a greater choice on which fish to target, which enables you to increase the chances of a successful catch.
While canoes and kayaks are great for fishing, the height advantage of paddleboards enables you to see and catch more fish. Canoe and kayak anglers often decry the lack of a wide vision. You can easily spot fish, boils, bait, grass beds, potholes and so on when you gain greater height. A fishing paddleboard enables you to use more than your neck to gain height advantage. It is no wonder that a seasoned angler using normal boats will invest in platforms and towers to gain the highest vantage point.
Paddleboards are easy to load, unload, transport and carry, compared to a kayak, canoe or boat. You can easily fit your board in the back of your truck with the back window open.
A stand up fishing paddleboard provides a more natural exercise while you fish because your body is not designed to sit down for long hours. Paddle boarding enables you to stand upright while you use your upper body and lower body for paddling, balance and leverage. You will develop greater leg strength and, thus, shapely limbs.
Health professionals who deal with body strength recommend exercises that maximize the use of the spine and legs. Back pains and spine curvature can be avoided if you exercise while standing up. When you remain in an upright position for an extended period, your muscles work overtime, which can cause fatigue. In this way, you will know that your exercise is effective.
When you stand up on a fishing paddleboard, you can achieve a similar effect. The advantage with a paddleboard, of course, is that you can always sit down on the seat cum cooler if you get tired.
The latest stand up paddle boards are stronger and lighter, thus offering you superior load capacity. Even larger riders can use them easily.
Our Top Three Stand Up Fishing Boards:
---
T
he Badfisher MCIT inflatable SUP board, for example, is rapidly gaining in popularity, owing to its stability and maneuverability. It also has custom features that will exceed your expectations. The board has real usable performance packed into a portable and inflatable SUP. It has a increased density in drop stitch cross fibers on the main board that makes for stability and rigidity that is unmatched in an inflatable SUP. You simply can't compare this board to any old low cost "inflatable sup".
Some features of this board include:
Attachment plates and D rings appropriate for holding crates and coolers

Extra width, which allows for stability during casting the line as well as fighting and landing fish
Slim Line Ultra High Pressure Hand Pump
Color Matched Repair Kit
Removable Center Fin
New XL Roller Back-Pack Carry Travel Bag
SUP Paddle
WBK Key Fob, koozie and decals
Retail Price: 

$1,699.00
Find The Current Best Price Here
---
The Bote Rackham is the one of the most versatile paddle boards ever offered. It has displacement hull technology the allows you to paddle effortlessly. The standing platform is recessed and with the thick bow, it will help keep you and your gear dry. The Rackham also has a load capacity of 400 pounds which is a lot! The board has two thru holes–for your fishing rods. The BOTE Rackham is an amazing waterman's SUP top to bottom.
Specs include:
DIMENSION – 12′ X 32″ X 7″
AVG. WEIGHT – 43 lbs
MAX CAPACITY – 400 lbs
CONSTRUCTION – Fiberglass with EPS Foam Core
Retail Price:

$2,249.00
Find The Current Best Price Online Here
---
L2Fish Catamaran Paddleboard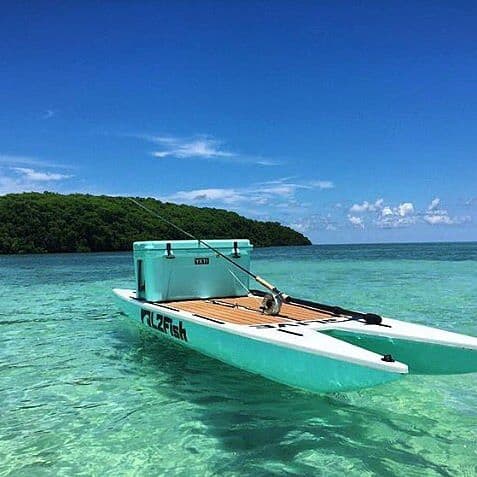 The newer paddleboards such as the L2Fish catamaran paddleboard are perfect for any angler with horrible balance as well as those with weights approaching over 500 pounds. They enable you to fish from the board without flipping over.
The thrill of pursuing fish takes a new meaning when you fish on the stand up paddleboard. It gives you the feeling of an eagle hovering above a prey that has little chance of escape. At that angle, anyone can become a prolific predator.
Due to the aerodynamic design of these paddleboards, they move silently over the water, enabling to approach fish that you have spotted a distance away without detection. These boards also come with paddles to help you propel the board. It is also made in a way that minimizes any ripples in the water.
There are reliable indications that fishing paddleboards are going to be around for a long time, both as a fishing aid and fitness equipment. The advantages that these boards have over other vessels in fishing demonstrate why more people are turning toward the use of paddleboards. Fishing for fun is acquiring a new significance. You do not have to worry about your whether the board can hold your weight. The latest designs have factored in the fact that all sizes of people want to have fun while fishing. At the same time, people who feel like shedding some weight will find the boards very useful. The mere act of standing for a long time and maintaining balance keeps your mind and body active.
Specs Include:
LENGTH: 12'6″
WIDTH: 34″
WEIGHT: 51 LBS
CAPACITY: 500 LBS
FEATURES: INTEGRATED YAK ATTACK TRACKS, DOUBLE LAYER DECK PAD
Retail Price:

$2,299.00