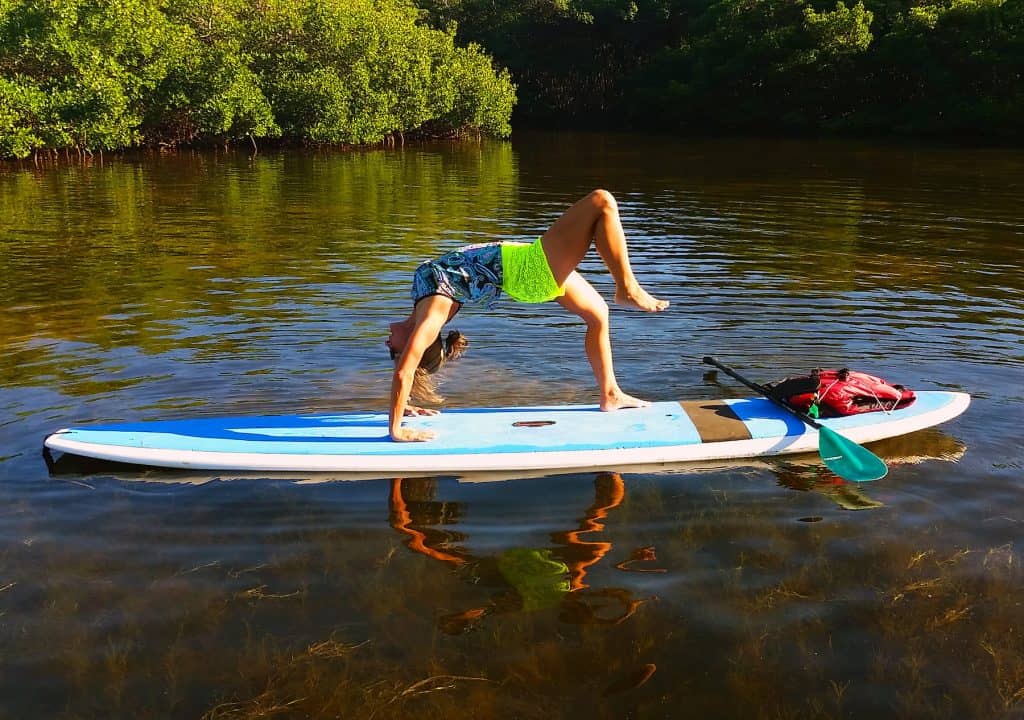 With SUP (stand-up paddle boarding), and subsequently SUP yoga, spreading across the country like wildfire, you have surely seen classes pop up in your neck of the woods. Maybe you have already signed up for your first class. Now, it's time to consider what is really important — what should you wear?
All About SUP Yoga
Although it may seem as if the SUP craze is a recent occurrence, history shows us that, in some form or another, the concept of stand-up paddle boarding has been around for thousands of years. Simply put, SUP is standing on a large floating surf board and maneuvering over the water with a long paddle.
Consider the Peruvian fishermen who used caballito de tortora, or rudimentary boats with paddles, to catch their livelihood. Then, there are the iconic Venetian gondoliers, who stand and steer gondolas through the canals of Venice — oftentimes while crooning. It is easy to see how SUP is really nothing new.
Yoga began in ancient India and is a core discipline of the Hindu traditions. The goal is to use mental, spiritual and physical disciplines in order to achieve overall balance. Both paddle boarding and yoga require establishing and enhancing core strength and balance. It only seems natural that the two disciplines would merge into a hybrid sport. SUP yoga is simply practicing yoga atop a paddle board on the water.
What to Wear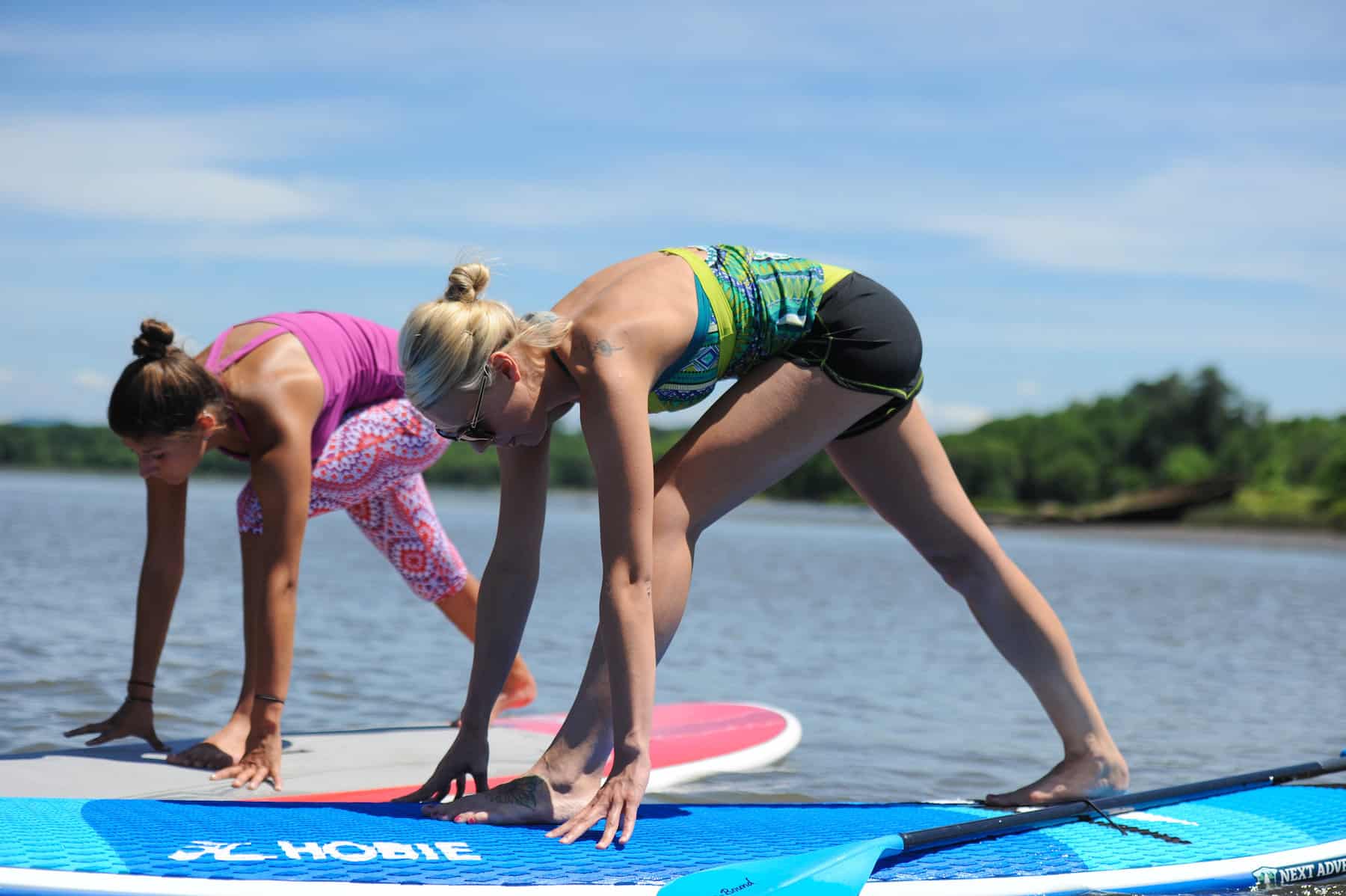 Though you would be hard pressed to find a SUP yoga class taking place during a blizzard, weather conditions should be your first concern. Wind and rain can sometimes move in quickly when you're on the water, and it's a good idea to be prepared if the forecast calls for such.
Your physical comfort is of utmost importance in order to get the most out of SUP yoga. You will be bending and stretching while trying to keep from falling into the water. You need clothing that will allow you to move freely and won't weigh you down should you take an unplanned dip in the water. Read on for a few of our top picks for SUP yoga clothing.
Protection
Though technically not clothing, we would be remiss if we failed to cover the basics. You will be under the sun and on the water, which is basically a double whammy of UV rays. Sunscreen is vital. Look for one that is water- and sweatproof with a high SPF. We love Neutrogena Ultra Sheer Sunblock because of its lightweight, non-greasy feel and its SPF 100.
Other items that fall under protection are hats and sunglasses. You will need to find ones that can be secured to your person, unless you are planning sacrificial offerings to the SUP yoga water gods. These polarized Costa Del Mar Sunglasses were made to provide the best eye protection on the water. Adding a sunglasses cord like this one ensures they will stay with you.
Shoes
Throwing on your old sneakers or favorite flip flops can work just fine if you are mounting your paddle board from a dock. However, if you are carrying your board into the water, you might consider a type of water shoe. They will stay on your feet without floating upwards.
We prefer a booty-type water shoe like these O'Neill Reef Booties. They will protect your feet while trudging through the water, and can be worn during SUP yoga thanks to their non-skid soles.
If you prefer an even lighter shoe, try a strappy water sandal like these Keen Newport sandals (pictured to the right). Both types of shoes can easily be stored underneath your SUP's storage bungee if you want to take them off for yoga.
Swimwear
Swimwear seems the most appropriate clothing to wear to paddle board yoga, though it is probably not the best time to break out that teeny-tiny bikini or brand-new speedo you just bought. With all your possible yoga poses, that would be like begging for a wardrobe malfunction, of sorts.
Instead, women might opt for a well-fitting one-piece or a sports bikini. Men can usually get by in a standard pair of swimming trunks like these classic Hurley Phantom board shorts. At 22-inches long and made of stretchy material, they are certain to keep the goods hidden.
Sport swimsuits like this one-piece TYR Diamondback or this two-piece Reebok bikini make excellent SUP yoga attire for women.
On cooler days, or early morning classes, you may opt for something a bit warmer like a long-sleeved rash guard. Not only will something like this Quicksilver Rashguard keep you warmer than a basic swim top, it also offers 50 SPF and a barrier between your skin and ocean critters like sea lice or jellyfish. Pair it with these Ubestyle Surf Leggings for extra protection on your bottom half.
A full-length wetsuit like this one above by Hevto is also ideal for colder waters or weather. With only 3mm of neoprene, it will keep you cozy without weighing you down.
Yoga Clothes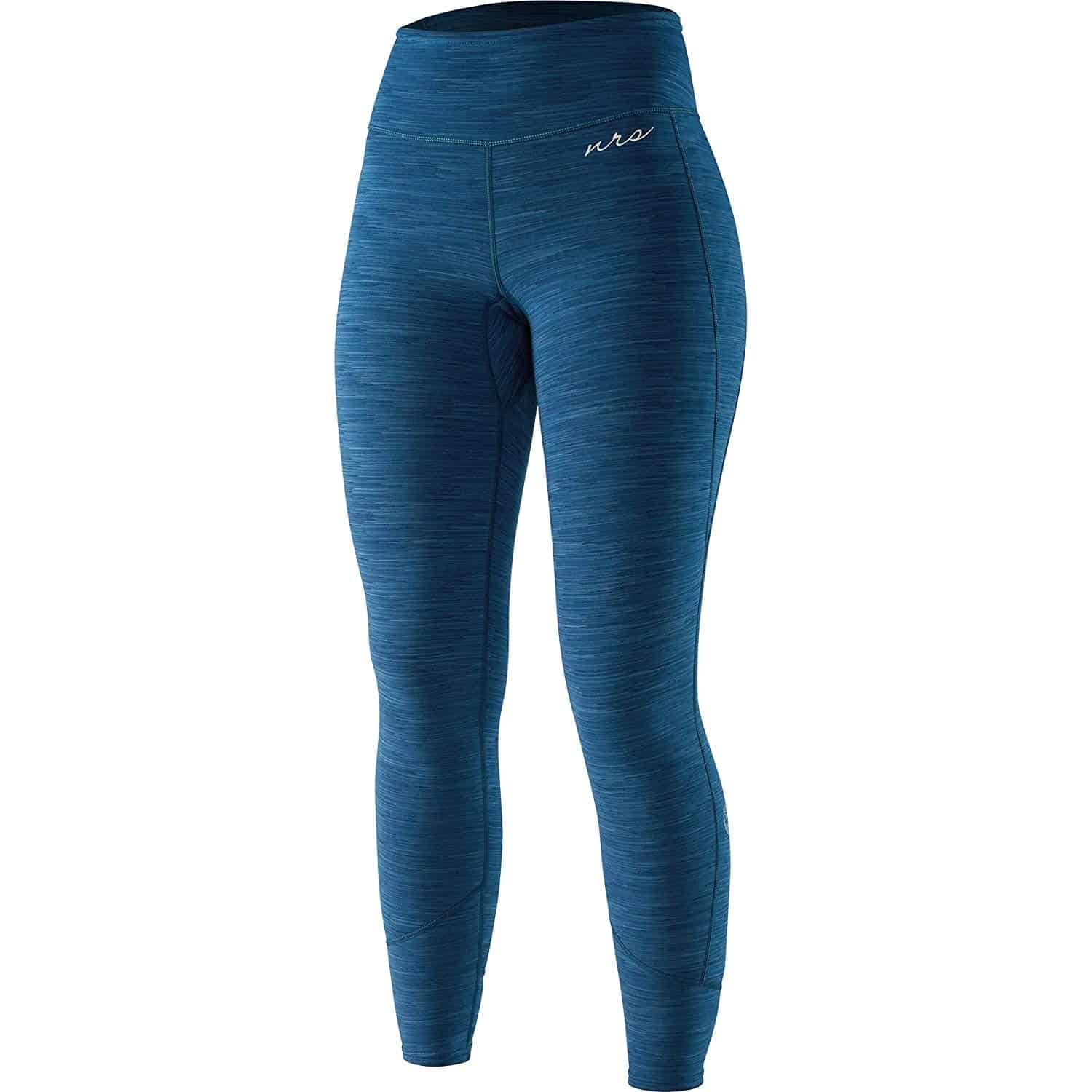 Why not wear some stylish yoga clothes to SUP yoga? We recommend choosing clothes with moisture-wicking and fast-drying capabilities for obvious reasons. With all the different designs for yoga clothes these days, you can easily find some to meet your personal style. We like these NRS Womans Hydroskin Pants (Pictured Above). Not only do they meet our wicking and drying criteria, they offer breathability and four-way stretch for a snug fit.
We love the looks of these cute and affordable Mippo Yoga Tops (pictured below). Made of modal and spandex, these shirts are both super soft and stretchy.
SUP Yoga Conclusion
Try on your yoga clothes and practice some poses beforehand. This will be the best indicator of what you should wear to paddle board yoga. Then, instead of worrying what is hanging out, pinching or bunching up, you can solely focus on your class and finding your balance.
Be sure to also read our article on the best SUP Yoga Boards if you liked this article on SUP yoga.